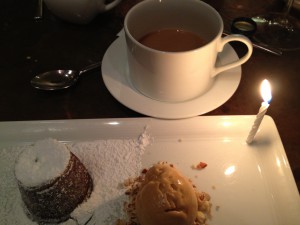 Pacing is . . . actually, my descriptions of pacing generally involve expletives that are not appropriate for this blog, so we'll stick with "Pacing is challenging." One positive side effect of my pacing efforts, though, is that I am still celebrating my birthday one month after the fact.
Last week, I went out for a birthday lunch with Friend K. We've been friends for 22 years now, and K knew me for four years before I got sick. We went to law school and took the bar exam together, and undertook a mammoth road trip together. When I started dating my husband, K was the first friend I asked to check him out. Hanging out with K is great because she really gets the illness, and so I don't have to talk about it but I can if I want to. She told me the latest stories about her sons, and generally made me laugh my ass off. For a few hours, I felt like a normal person having lunch with her best friend, and it was glorious.
I also went out for a birthday dinner last week with Friend M. I met M soon after I got sick, and she is another rare gem: a friend who gets it. M and her husband read a prayer at our wedding, and she is one of the most loyal and giving people I know. For my birthday, M took me to one of my favorite local restaurants for dinner and we closed that place down. The meal was sublime, but having M's undivided attention for four hours was even better. She told me some great stories about her eight year old daughter, including the "court proceedings" in which M has been accused of posing as the tooth fairy. I felt just like the women at the table next to ours, enjoying a girls' night out with one of my closest friends. These moments of normalcy, of interacting with the world the way I used to, are so rare and precious.
And then there was the payback. The day after that dinner, I was crashed but I didn't care. It was totally worth the pain and post-exertional relapse. I was still high on the joy of being with my friends. But then I was crashed for two more days, and I started to question the price of normalcy.
My attempts to implement stricter pacing techniques have challenged me far more deeply than I expected. I'm questioning everything now. Before the exercise testing, I was absolutely convinced that having occasional episodes of normalcy was worth the crash days. Outings like these feed my spirit and make me so happy. But now I wonder if it's the right thing to do. Do I have to give up the last few remnants of my healthy life in order to cope with my sick life? How do I strike the right balance between accommodating my physical limitations and hanging on to who I am? What else do I have to give up in order to live crash free?
I feel like these are deep, existential questions. For 18 years, I have sacrificed my body in order to enjoy occasional outings with my friends, to participate in CFS advocacy, and to take care of my family. If pain and crashing was the price of continuing to participate in my life, I paid it gladly. But is this the right way to balance the equation? Is having dinner with a friend worth three days in bed? Facing that consequence is not fair, and I don't want my life to be this way. But this is my reality. I need some kind of owner's manual to tell me how to figure this out. Do I punish my body by exceeding my physical limits? Or do I punish my soul by living within those limits? It's a no-win situation, and I don't know how to answer these questions any more.